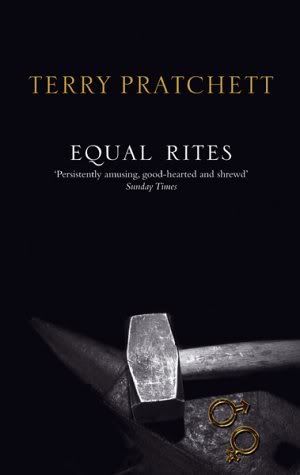 Equal Rites by Terry Pratchett
(1987)
I have always seen Terry Pratchett's books in store shelves but never really gave them any serious consideration. That is, until I came across a collaboration between him and Neil Gaiman entitled
Good Omens
(which I am still fervently trying to get hold of). All I knew about him then was that he wrote fantasy stories set on his very own fairy-tale world called Discworld. But that was just about everything I knew about the man.
I wondered, then, that if an extremely talented writer like Gaiman, whose books I immensely enjoyed reading, had decided to work with Pratchett, then I guess Pratchett's work deserved closer scrutiny (I know now that that was such an unfair assessment because Pratchett is actually the more senior writer and has received greater recognition in the field than Gaiman).
Anyway, I firmly decided to go out on a limb and read one of his books.
Being unfamiliar with Pratchett, I found myself in some sort of a bind in choosing which among his numerous books to read first. But then, since he wrote his novels in series (although, as I found out later, each installment can basically stand alone), then it was only logical for me to start from the very beginning. As luck would have it (which was how luck would always have it), the books I was looking for were not available. The first two books in the Discworld series were out of stock, so I had to settle for the third installment entitled
Equal Rites
.
As it turns out,
Equal Rites
is a wonderfully funny and witty satire on sexism and gender role expectations. But more on this later.
Now, in order to fully understand and appreciate Terry Pratchett's work, you must understand the workings of the world that he created and which is the setting for most of his novels -- Discworld.
Discworld is a flat planet riding on the backs of four incredibly large elephants who, in turn, stand atop the Great Turtle A'Tuin who undulates endlessly through space. The flat planet is orbited by its own teeny-weeny sun and is the only planet in the "multiverse" (as Pratchett calls it) in which the seawater falls over the edges in an endless "rimfall." It is also a place where humans naturally co-habitate with wizards, witches, trolls, demons, dwarves and so many other strange creatures.
It is also a place where Death takes an assistant and even goes into retirement.
Anyway,
Equal Rites
starts out with wizard Drum Billet, who foresees his death (in Discworld, wizards know exactly when they will die), setting out to pass on his powers and his wizarding staff to his successor. As a rule in the Disc, the eighth son of an eighth son is destined to become a wizard. There is one problem, though. The eighth son turns out to be a... daughter. Billet, not bothering to check the baby's gender, bestows his magical staff, completes the turnover rite and thus formalizes the dilemma. In Discworld, girls are not allowed to become wizards. Why? Well, it just hasn't been done before.
The baby Eskarina grows up to be a headstrong little girl and decides, at the age of seven, to pursue her destiny against all odds. With the reluctant help of witch Granny Weatherwax, Eskarina travels to the Unseen University in Ankh Morpork where wizards are trained, dead set at being the first girl wizard.
(I must note here that Pratchett came up with the idea of a "school for wizards" years before J.K. Rowling wrote her very first Harry Potter book.)
Equal Rites
is a hilarious satire on, well, just about everything (with particular emphasis on gender role expectations and societal norms). The plot is promising enough and it doesn't take long for the action to pick up. In fact,
Equal Rites
is an enthralling ride through much of Discworld as the readers, through the young Esk, meet new and bizarre (but always funny and lovable) characters. The ending, though, is a little off for me. Towards the end of the book, I felt that Esk was totally upstaged by Granny Weatherwax. Then again, the sheer thrill of the reading moved me to forgive this particular flaw.
I must admit that I enjoyed the book not so much because of the story but because of Pratchett's engaging style of writing. He is purposely funny without sounding contrived, witty without sounding arrogant. As such, this is not so much a review of
Equal Rites
as it is a testament to Pratchett's endearing style of humor. Pratchett has the talent of playing around with language, turning and twisiting words to suit his needs. On many occasions, I find myself rolling on the floor laughing (rolling on my bed, to be exact -- I never read on the floor).
Loyal Pratchett readers say that this is not his best work. They say that his style hasn't quite developed yet in this here book. If this is so, then I should definitely get hold of his later works. Still and all,
Equal Rites
is a good enough initiation to Pratchett's fantastic Discworld. It succeeded in convincing me to further explore that flat planet on the back of four elephants that stand atop a gigantic floating turtle.
(Note: I just finished reading Pratchett's Reaper Man and thoroughly enjoyed it -- much more so than I did this book)